Maria Callas - Toujours Paris 1958 (2015) Blu-Ray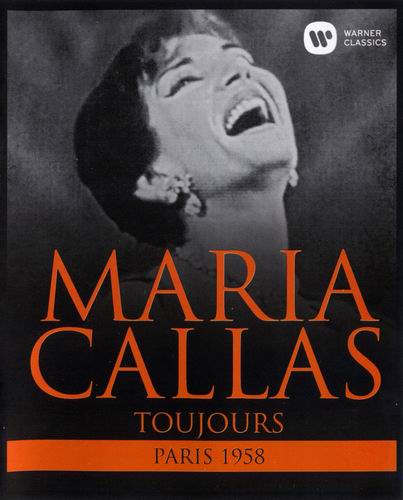 About: Callas made her belated Paris debut with this concert at the sumptuous Paris Орёга - now known as the Palais Garnier - in 1958. It was a major social event, attended by le tout Paris, and Callas appeared on the famous stage wearing her most elegant couture and a million dollars' worth of jewellery. She opened with Norma's "Casta diva", which was followed by Leonora's plaintive aria and the gripping "Miserere" from Act 4 of Il trovatore, before she lightened the mood with "Una voce poco fa" from Il barbiere di Siviglia. The second half of the evening offered a staged version of Act 2 of Tosca, for which Callas was joined by her familiar and brilliant sparring partner, Tito Gobbi, as Scarpia and the Australian-born tenor Albert Lance as Cavaradossi. The conductor was Georges Sёbastian. Paris became the last city in which Callas appeared in a new operatic production (Norma, 1965) and she died, aged just 53, in her apartment in its elegant 16th arrondissement in 1977.
Genre:Classic
Quality:Blu-Ray | 1080i
Format:M2TS | 27.9Mbps
Length:01:30:53 | 23.2Gb
Video:H.264 | 1920x1080 | 16:9 | 29.970fps
Audio 1:LPCM | 1536kbps | 2 channels: L R
Audio 2:DTS-HD MA | 3443kbps | 48kHz | 6 channels: Front: L C R, Surround: L R
Language:English
01. Opening Introduction
VINCENZO BELLINI (1801-1835) – Norma (Atto I)
02. Sediziose voci
03. Casta diva
04. Fine al rito, e il sacro bosco
05. Ah! bello a me ritorna
06. Introduction to Il trovatore
GIUSEPPE VERDI (1813-1901) - Il trovatore (Atto IV)
07. Vanne...lasciami
08. D'amor sull'ali rosee
09. Miserere d'un'alma gia vicina
10. Introduction to il barbiere di Siviglia
GIOACHINO ROSSINI 1792-1868 – Il barbiere di Siviglia
11. Una voce poco fa (Atto I)
12. Introduction to Tosca
GIACOMO PUCCINI 1858-1924 – Tosca (Atto II)
13. Tosca e un buon falco!
14. Ha piu forte
15. Egli e la
16. Dov'e dunque Angelotti?
17. Ed or fra noi parliam da buoni amici
18. Orsu, Tosca, parlate
19. Floria! Amore...
20. Vittoria! Vittoria!
21. Se la giurata fede
22. Vissi d'arte
23. Vedi, le man giunte
24. E qual via scegliete?
Files are subject to expiration and can be automatically deleted if their not downloaded 30 days after the last download.